Academia provides the backdrop for Christina Lauren's 2018 romance novel My Favorite Half-Night Stand. It follows a group of five thirty-something best friends, all faculty and postdocs at the University of California Santa Barbara, as they make their first foray into the world of dating apps in an attempt to find plus-ones to the commencement banquet.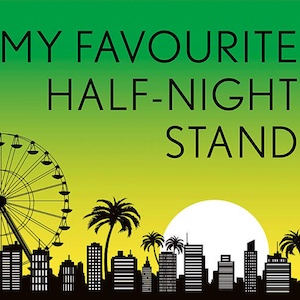 Millie, a criminologist, is the lone humanities professor in her friend group and likes to keep her feelings close to her chest. Her best friend Reid is a recently tenured professor of neuroscience and craves deep, personal connection. He and Millie have a breezy, effortless camaraderie, as long as he doesn't try to get her to open up too much. They've never really thought of each other as anything more than friends, until, wine-drunk after Reid's tenure celebration, Millie seduces him into spending the night with her – well, half a night.
Reid's developing feelings for Millie do not dovetail well with the whole dating app plan. And Millie isn't sure what she feels, except annoyance that her profile is only yielding dick pics. She decides to create a new profile that's not exactly fake – Catherine is her middle name – and when she matches with Reid, she connects with him just to be funny. She puts so many inside jokes in her message, how could he not know it's her?
When Reid connects with Catherine on the app, he's pleasantly surprised at their instant connection, but doesn't suspect anything. Millie plans on telling him right away, but her competitive side gets the better of her when she realizes Reid is talking to multiple women on the app. That, and it's a lot easier to open up anonymously online. While Catherine and Reid have the deep conversations that Reid has been craving, Millie and Reid continue to hook up.
As Millie's deception goes on, her friends – chemistry professor Chris, biochemistry professor Alex, and Reid's postdoc Ed – are caught in the middle of all the drama and contribute to the chaos as they try to help Millie and Reid see that they're meant for each other.
My Favorite Half-Night Stand is a pretty classic take on the friends-to-lovers trope, but the academic setting makes it refreshing and achingly relatable. I don't know how many times I've browsed through the romance section wondering why, with all the niche genres out there, academic or lab romance isn't more of a thing. Researchers are by definition dedicated and devoted, which makes them the perfect protagonists for romance novels. Christina Hobbs and Lauren Billings, the two authors in the Christina Lauren writing duo, do the academic love story justice and then some.
Lauren Billings has a PhD in neuroscience, and the small details that only someone who's spent too much time in the lab would think to include really come through here. A friend walks into a bar with safety goggles still on his head, characters skim scientific journals at lunch, and even Wade's Organic Chemistry has its moment. The perspective switches between Millie and Reid so even though one of the leads isn't a science person, the lab vibe is still strong in Reid's sections. As a microscopist, I appreciated how Reid finds comfort and solace in the dim microscope room after a bad day.
But the science isn't the story here, it's just the setting, so rather than alienate readers who don't come from a science background, it invites them into the culture of academia. Relevant concepts like tenure and qualifying exams are casually explained without bogging the reader down. Plus, the science sounds pretty hot: "I've seen those hands in the lab, calibrating the most sensitive pieces of equipment, and then in bed, holding me down…"
After a line like that, who wouldn't want to be a scientist? (Or, at least, date one?)
There were a couple of plot points that gave me pause – why would a postdoc go to faculty meetings, or be expected to go to commencement? More concerningly, there were a few references to people having sex in the darkroom, which I sincerely hope has not actually happened anywhere, as that would be a profound safety violation. (But if we are assuming it's just creative license…A+).
Overall, it was incredible to read a romance novel about characters who do the same things I did in grad school (the lab work, I mean). Too often, researchers are portrayed as cold and unfeeling, so it was satisfying to see a happily ever after for Millie, Reid and their supporting cast.